Get the Lowdown on Mexican Wedding Traditions
Are you and your significant other planning a Mexican wedding? Is one or are both of you of Mexican descent, and would you like to incorporate Mexican traditions into your wedding to honor that heritage? If so, the first thing you need to do is sit down and learn about these traditions, and find ways to make sure that they are a part of your special day. Not only is what you are wearing going to be extremely important, there are also some differences in the ceremonies than there are in most North American weddings, and you will need to understand the significance of these ceremonies.
1. Ceremonies to Remember
In any culture, there are many ceremonies, and many traditions within these ceremonies. This includes weddings, and there are a number of traditions that go along with a typical Mexican wedding that you may or may not want to uphold. Two that are extremely important are the traditions of the 13 gold coins and the lazo wedding tradition, which is actually something that is a part of every Mexican wedding ceremony.
2. One thing that you will probably want to include in your traditional Mexican wedding ceremony is the tradition of the 13 gold coins,
or arras. This is done right after the bride and groom exchange their vows. The groom gives the bride 13 wedding arras coins (golden coins), which represent Christ and the twelve Apostles. They are delivered to the ceremony on a small tray or in a decorative box, and are first given to the priest or minister, who blesses them and passes them on to the groom, who offers them to his bride as a symbol of prosperity for the marriage, and to say that he is offering all of his material possessions to her. When the bride accepts this gift, she is saying that she will be a loving wife and mother, and will give him her unconditional love.
3. Another important part of any Mexican wedding ceremony is the lazo or lasso.
This is a ribbon or cord that is decorated and placed around the necks of both the bride and groom. Usually, there is a loop at either end of the lazo, which is placed around the groom's neck first, then the brides, and it binds them to one another, cementing the commitment that they are making to each other. This is done by either the attendants or the godparents of the couple once they have completed their vows, and the lazo remains on the couple until the end of the ceremony. Sometimes, instead of a cord or ribbon, a large rosary may be used. Once the ceremony is over, the priest or godparents remove the lazo, and the bride keeps it as a memento.
4. Your Clothing
If you are going all out and making your wedding a completely traditional Mexican wedding, you are certainly going to want to look the part. The clothing worn in a Mexican wedding is extremely beautiful and romantic. The bride wears a slim dress with a bolero jacket, or she may want to go a bit fancier, and wear a gorgeous Flamenco-style dress that has lots of feminine ruffles. The groom usually wears a suit that is similar to what a matador would wear, tight fitted pants and a bolero jacket, or, loose drawstring style pants with a Mexican Wedding shirt, called a guayabera. This style dates back about 200 years, and it is filled with detailed embroidered panels covering the front and back of the shirt. This type of shirt is often worn with a tuxedo if the ceremony is inside a church, and it is also popular for beach weddings.
5. There are many other things you can have to ensure that yours is a traditional Mexican wedding.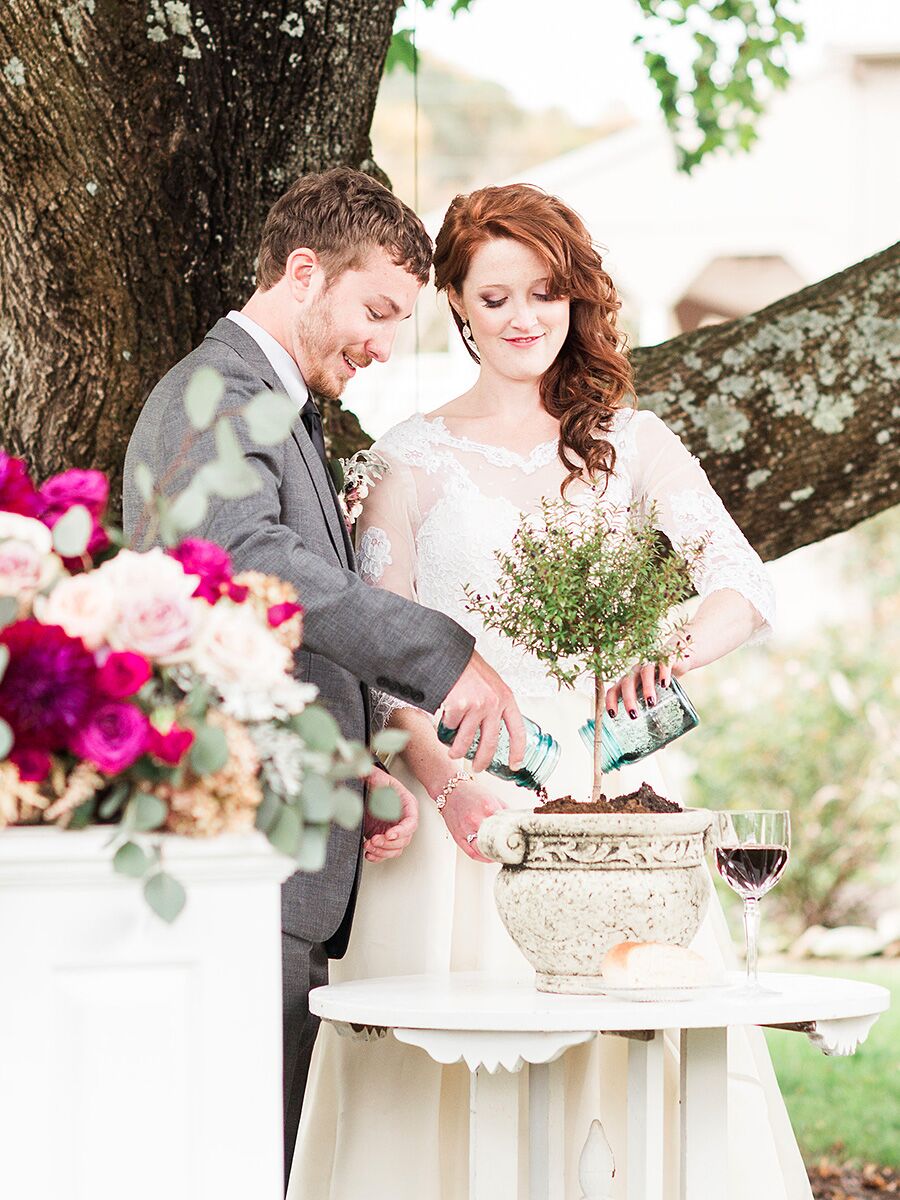 Food and music are important, so don't skimp on the spice rice, beans and tortillas, and of course, there just has to be an amazing mariachi band playing for your reception, and of course, some beautiful flamenco guitar for your ceremony. Talking to your family and friends is a great way to learn more about Mexican wedding traditions, so you can plan the wedding of a lifetime.